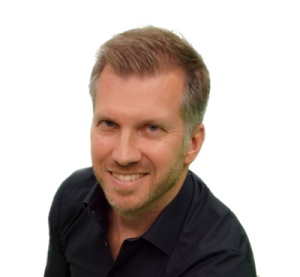 My passion is sales. But it wasn't always like that. I changed my life and the life changed me. Why and how this change happened you can experience in this blog.
After studying building services engineering at the University of Applied Sciences in Munich, I worked successfully in this profession as an engineer in building services engineering in various functions.
Without my constant restless drive to develop myself further, it would not have come to this either, because I had to take a detour to study. The reason for this was that my unbridled thirst for knowledge unfortunately only started after the middle school leaving certificate and I found a way to study via the intermediate station of a vocational training for energy electronics technicians and the subsequent university series.

The change
Since I have always been very process-driven and strived for optimizations in certain processes, I was already very interested in the construction processes at that time, which brought me into contact with a software company.
This, more by chance, has resulted in a complete reorientation in my life.
For over 10 years now, sales and everything that goes with it is my new passion.
Right from the start, I was fortunate enough to be taken in hand by experienced sales professionals from all over the world and to benefit from your knowledge. In addition, I enjoyed many international training on a wide variety of topics, so that after a short time I found myself speaking on the stages in the most diverse countries in order to pass on my knowledge.
This change has definitely changed my life in a very positive way, both in my private and professional life – the way I think, the way I dress, the way I do things, and maybe sometimes the way I feel. The people who have known me personally for many years will certainly confirm this to you, including my beloved wife. Today I am doing things I never imagined before and my initial rejection has turned into euphoria.

The blog
Driven by this passion and the fun to communicate with other people I will continue to go this way and it has caused me to establish this blog.
I want to make you aware of what you can already do, why it works and above all why you should use it and transport it into other areas of your life. For this I give a lot of myself personally, my experiences and my knowledge.
I give you some very private insights and examples of how the change came about in me and I constantly change my perspective in order to illuminate certain situations from different perspectives. If I am in the position of the customer, I always observe the behaviour of the salesperson, and vice versa, I try to understand the situation of the customer.
Of course, you will also receive tips on how to improve yourself in all areas.
This blog is from my life, for your life and should enrich this. With the listed personal experiences I deliberately avoided referring to concrete examples from my direct professional and private environment. That is, if you know me and have the feeling that you find yourself in my blog, then this reference is purely coincidental. Always remember, life provides enough experiences every day and I have deliberately chosen only examples that did not occur only once.
I would also like to point out here that these are my personal experiences and opinions, and they are not related to my current and previous employers.

Success
My motto is "easy, authentic and successful". For me, success is not just a matter of career or material things. What I mean is, that every goal you have set for yourself, will be successful and that you are satisfied with yourself.

My private life
Privately I live with my wife and my two children in the Munich area and enjoy the Bavarian idyll, although unfortunately I am far too rarely at home due to my professional activity.
I spend part of my free time with do-it-yourself. There is almost nothing that is safe from me and so it came that I have now arrived at furniture construction through the core renovation of our own home.
In the remaining time I try to keep my body fit for the professional strains with sports.