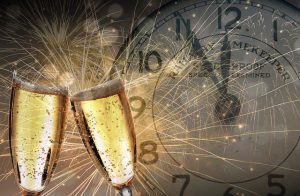 A few more hours and a new year is dawning.
What type do you belong to? Are you one of those people who start the new year with goals? At midnight the last cigarette and that's it with smoking? The subscription at the gym on January 2nd  to get fit for the summer? Or are the plans of a professional nature?
Anyway, most of these goals are unfortunately a flash in the pan and have no sustainability. Why does this happen? There are many reasons for this, but one of the most common is the wrong objective. You decide, for example, that you want to "lose weight". Irrespective of the fact that this goal is not very specific and therefore the success is difficult to measure, this is not a really motivating goal either. Is it really just about losing a few kilos or is it about getting a better body feeling, for example? What triggers this in you and what advantages do you have? Try to visualize this for yourself and define it as your goal. Losing weight is the way to get there and not the goal itself.
Of course the importance and seriousness of the goal plays a role for you personally. The question arises, why does the goal definition take place exactly on New Year's Eve? If this has a high priority for you, why do you wait maybe half a year before starting with the implementation? Why not immediately? Well, professionally this can also be connected with a new business year, but especially in my private life I see few obstacles here. Often the motivation here is probably rather a bad conscience and the goal is then defined out of a certain mood. However, this cannot be sustainable.
Annual Compass
Personally, I always take my time during the year to question my actions. This usually takes place in situations in which something went particularly well or perhaps not so well. What were the reasons for this? How can I perhaps include this in other areas? Which things do I have to change if necessary? What was the advantage or disadvantage for me, etc.? It helps me to further motivate myself, to keep my continuous change process going and to implement my goals successfully.
If you would like a "guide", you can download the "Annual Compass" free of charge as an example: https://yearcompass.com/. It is also available in German.
It helps to complete a year, to plan the next one and to start motivated. As described before, I don't just see the end of the year as a suitable time for this, but every day. According to an old saying,  you shouldn't postpone what you can do today until tomorrow". You just don't have to lose the focus of your goals and desires in the routine of everyday life.
I wish you a happy, healthy and successful year 2019!