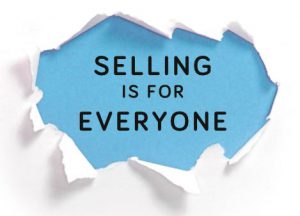 I am convinced that even professions that are not typical in a sales role  should deal even more intensively with the topic of "selling".
From my point of view it doesn't matter whether you are a nurse, architect, doctor, engineer, building system engineer, physiotherapist, warehouse clerk or a drafter, working in support or any other professional group. I am convinced: Anyone can sell and should use this ability to a greater extent. All you have to do is trust yourself! Believe in your abilities and, as in any profession, learn something new over time. This is exactly the goal of this blog "Selling is for everyone".
Personally, I am enthusiastic about the varied and challenging content that the sales job and its further training brings with it. Since I have switched from my engineering profession to sales many years ago and have learned what a wonderful world this can be, I have been firmly convinced: Everyone is in sales or should feel addressed here!
Sales content
Selling doesn't just have something to do with price negotiations. On the contrary, as soon as you have reached this point in the sales process, it is actually too late. The basics are laid much earlier. Professional sales requires knowledge from all important areas. The needs of the customer must be understood, these realizations analyzed and worked out to a solution proposal. This requires not only analytical, but also goal-oriented thinking. However, the best idea does not help if it is presented incorrectly. For this reason, high communication and presentation skills are required.
Especially with more complicated products and services, you usually do not work alone, but together with other colleagues. This requires a high ability to work in a team and knowledge of motivation. The multitude of sales opportunities must be prioritized and focused accordingly. I could continue the enumeration at will. All this must be continuously trained, which demands a high degree of willingness to change and implement.
I don't write this to praise sales in its highest tones. I would like to show that this topic includes skills that are important and can be applied in any profession – not only here, but also in private. The sales expertise allows you to perform your tasks easier, more reliably and better and to have more fun and success in life.
As described before, everyone, professionally or privately, has to do with selling or at least with parts of it.
Your actions usually fall back on the company, not on you.
As soon as you come into contact in any way with people outside the company, even if it is only by phone, you represent the company. The impression you leave on the person falls back on the company. This means that you have a very high responsibility here, which is usually not recognized or implemented so often.
And if you do not come into contact with external people, there is probably still a superior with whom you want to present yourself positively for the next salary increase. Also in the private environment there is a multiplicity of situations in which you would like to sell yourself or something.
If you don't have a steady partner yet, then flirting is nothing else than selling yourself. If you are already in a happy relationship, there are certainly opportunities where you want to convince your partner of something, be it a new pair of shoes, a bigger TV or a holiday.
As mentioned in the introduction to this post, there are also a variety of qualities and skills that a professional salesperson has to have, which help you in everyday situations.
Look at each interlocutor as your customer and act accordingly.
No matter what conversations you have, whether with your partner, your superior, your team or business partners, it will bring you enormous advantages if you make a change of perspective and regard everyone as your "customer". Try to understand his needs and to think and argue in "added values".
For this reason, I believe that selling is for everyone!
Unfortunately, just like me in the past, very few non-salespeople deal with the corresponding literature out of ignorance. Beyond that, the respective components are taught predominantly only in the service-oriented training courses and schools, as for example hotel management school, or courses of studies. In all others terms such as customer or guest are usually not even mentioned.
Why not actually?
Isn't it possible, for example, for an architect or engineer to go into business for himself after completing his studies? Even the most gifted graduate must first acquire orders so that he can implement what he has learned. With a comparison from the Stone Age, this knowledge is even more important. Above all, what does it help you to know how to prepare an animal if you don't know how to hunt it? For the vegetarians among the readers: Which berries and mushrooms may I pick and which not? If I don't even have any food in the first place, it doesn't help me if I am the most brilliant cook, or if I do this job to earn money, if the potential customers don't know it and satisfy their hunger at the competitor.
Oh, how I loved to shine with highly technical terms. I am thinking, for example, of the "total heat displacement with an adsorption chiller and a combined heat and power unit". Above all, I had to present all the data from my thermal simulations. What could be better than to impress the client with a diagram battle with the most colorful characteristic curves?
At least that's what I thought.
The best product is worth nothing if you can't convince your customers.
The results and quality of the team's work were mostly excellent, only the presentation was not as good afterwards. The best product is worth nothing if the customer (client) is not convinced. Not that you misunderstand the last lines, in most cases we have convinced the customer and the customer satisfaction was very high. Looking back, I am only convinced that in many cases things would have been even better and easier, which would have saved time and sometimes nerves on both sides. At that time, unfortunately, I lacked the tools for this.
What did the customer want, did I really understand him? I thought so, yes. Today I write "thought", because I have learned what could have been done better.
During my studies I had worked for many years on construction sites and in customer service. I experienced a lot here, but also as a customer myself. Unfortunately, after the departure of the fitters sometimes more things were broken than before. From minor damage, such as a dirty carpet or a damaged wall, to major repairs. I'm thinking here of a parquet layer who apparently didn't apply the oil, but sprayed it with a Bazooka water pistol. All walls had to be renovated afterwards, although they had been freshly painted shortly before.
Experience
After many years as an engineer in the building industry in different functions, I changed into sales. My luck was, that I was able to learn the new tasks in a company that attaches great importance to further training. As a result, I was able to enjoy a large number of highly professional training courses within a short period of time. Added to this is the international orientation of the company, which gives me the opportunity to exchange ideas with colleagues from all over the world, with invaluable knowledge and many years of experience.
I often look back and remember certain situations and think "if I had already known this at that time".
However, I know from my own experience how difficult it is to deal with this topic in such professions. In a classic service profession or sales, this knowledge is the central topic around which everything revolves. In other professions, however, it is the respective specialist knowledge and you already have enough to do, to deal with the latest state of the art, changing standards and regulations, in addition to the actual everyday business. When will you find the time to deal with other topics such as presentation, communication, customer loyalty, acquisition, marketing, etc.? And then, there are additional topics such as business administration and corporate management.
Motivation
Precisely for this reason, because I know from my own know-how and experiences how difficult it is, but also how invaluably important, I have created this blog. This is my motivation. I hereby give you the opportunity to benefit from my many years of varied knowledge in a condensed form and would like to encourage the exchange of experience.
"Selling is for everyone"