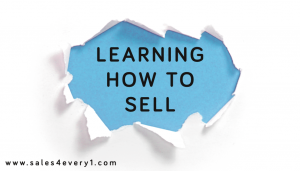 In my article "Selling is for everyone" I explained that from my point of view everyone is in sales, regardless of the education and professional orientation. Every day, everyone has to deal with situations in which they are actually selling something. Be it actually a product or a service, an idea or a wish, you yourself as a person in an employee or job interview or while flirting.
But does this also mean that everyone has to learn how to sell and is everyone able to do so at all? And above all, can you learn how to sell?
In order to answer this question, the question of what is "selling" has to be clarified first.
Components of selling
Just as, for example, one studies engineering in a wide variety of subjects such as mathematics, physics, chemistry and so on, "selling" consists of different facets such as communication, motivation, setting priorities, positive thinking and much more. These are all qualities that you can learn just like other topics.
As selling has nothing to do with witchcraft and magic, I am of the opinion "Yes, anyone can learn how to sell". One of the many examples that it works is me.
However, the most important basis for this is that you want it and that you are aware of your role and responsibility for a company. If this will does exist, one should of course also enjoy dealing with people. This becomes all the more important the more you have to communicate with other people in your profession.
Understanding the customer
The role of a salesperson is to positively support the customer in achieving his goals. Since every customer can have different needs despite the same situation, the most important task is to understand the customer. Even as a restaurant visitor I can have different goals depending on the situation. Once I'm in a hurry and just want to fill up quickly. In this case, the ambience and enjoyment may be subordinate. If in such a phase the guest is advised with a meal with a longer preparation time, this can impair his satisfaction just as negatively as in the reverse case. I can think of enough examples where I spent an enjoyable evening in a relaxed atmosphere, visited a restaurant and then the service went much too fast. The starter had not even been eaten yet, already the main course was served.
The same principle applies in pretty much every profession. To use another example from my area, I am a project manager and my client would like to build a house or a road, for example, I can only advise him optimally and achieve a high level of customer satisfaction if I have understood his goals and wishes correctly.
Communication and Presentation
And this brings me to communications. Often I get to hear statements like "I don't like selling because I can't talk so good". This is probably one of the biggest misunderstandings in sales. It's not the one good salesman who talks a lot, but the one who can listen well. This includes guiding customers with the right questioning techniques, which of course can also be learned, and finding out all the information you need.
An architect or engineer must also present his concepts and "sell" them in such a way that the customer understands the ideas and gets a good feeling. If this is done ideally, the client's decision is much easier and possible tensions and disputes are avoided in advance. Also for the right presentation techniques there are appropriate training possibilities, therefore one can also put a hook behind this point.
Positive thinking
Let us now come to positive thinking. Here it becomes a little more difficult, because this is a personal attitude of the people. Do I always see the glass half full or half empty? In any case, I will have it very difficult, and this is again completely independent of the profession, if I always see only reservations in the solution. Or would you have a good feeling to be treated by a doctor who is not confident that his treatment methods are crowned with success? Probably not. This means a positive attitude and radiating competence is a must. But you can also work on this attitude if you want.
And for all this, the appropriate motivation and passion is of course required. This is the fuel that constantly drives the engine. See also "passion is everything".
Manipulation does not exist
Some readers may be surprised that the words "manipulation" or "sales tricks" did not appear in this article. For me, these are clearly not characteristics that are required in distribution and are not possible at all. These terms are probably one of the biggest mistakes for me in connection with the term "selling". I cannot force or manipulate a customer to buy something from me. The customer as a human being is an independent person with a free will. If he does not want, then he does not want.
Learning how to sell
In this article, I have dealt with some of the key factors in sales. In summary, it can be said that all the necessary topics can be learned and everyone, despite experience, can continuously improve. As a result, you can also learn how to sell.