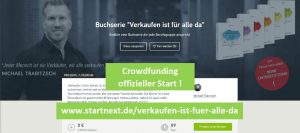 As I wrote in book 6, you should celebrate your successes and above all the intermediate goals. This is what I do today.
The start of the crowdfunding campaign is another important step towards the realisation of my book series. Now only your support is missing.
Just have a look at the following link and choose one of my high-quality gifts.
https://www.startnext.com/verkaufen-ist-fuer-alle-da
Even if the books and the most gifts will be in German you have the possibility to become part of the book series with a mention of your name or even your own story. And for all of you who are still looking for your great love, I have a suitable webinar with my personal flirt tips (German).
So, just have a look and let me surprise you. I look forward to your support and I say many thanks at this point!
Crowdfunding – official launch